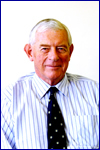 MALCOLM PIETER UYS
Director D.Agric


Fellow member of IOD UK & Zimbabwe. Prior to his founding of the Tsebo Group, Malcolm was the Operations Manager of Ipcom Limited, at the time the largest privately owned Investment Finance Corporation in Zimbabwe. Founder member of Tsebo Group of Companies in 1977. Then appointed Executive Chairman in 1996. He has been at the centre of Tsebo for more than 39 years. Malcolm retired in July 2015 but is still an integral part of the company and is held in high esteem by his employees.

MOYRA ALISON UYS
Director
Moyra Alison Uys is Malcolm's wife of 53 years, although trained as a Physiotherapist, she has not only worked in the company over the years but has been the total support of Malcolm while he built the company over the last 39 years.
Sandi-lyn is an Executive Director and Malcolm and Alison Uys' eldest daughter. She first worked in Tsebo at the age of 16 and then on and off all her life. She has a Hotel Management, Accounting and Operations background and worked for Interfin Merchant Bank as their Private Banking GM as well as other banking corporations and spent some years working in the UK and South Africa. She also has an MBA and specializes in Accounts and Operations within the Company maintaining it at its highest level. She has been working with Tsebo for the passed 18 months once her father retired. CHRISTINE ROBINSON
Managing Director
Joined Tsebo in March 1998 as a Sales Representative and promoted to Sales Manager in October 2001. Four years later, Christine was appointed Sales & Marketing Director in February 2005, a position she held until 1st June 2016 when she was appointed Managing Director. She has served with the company for a total of 18 years.